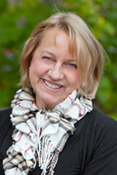 Principal Broker | Owner Josiah Allen, Dorset
About Laura
Years in Real Estate: 25

Specialties: All aspects of real estate, especially historic homes, antique houses, and land

Background: Laura Beckwith has been Principal Broker of Josiah Allen Real Estate since purchasing it from founder Josiah Allen in 1984. A lifelong New Englander, Laura has in her genes a passion for slate roofs, white clapboard and egg-and-dart molding. She is also the first, however, to voice enthusiastic appreciation for modern design, with dramatic glass walls to the view, bright, open interiors and tremendously efficient and appealing technologies (think radiant floor heating or smart house lighting). Laura's special talent? Matching buyers to just the right property, time after time after time.